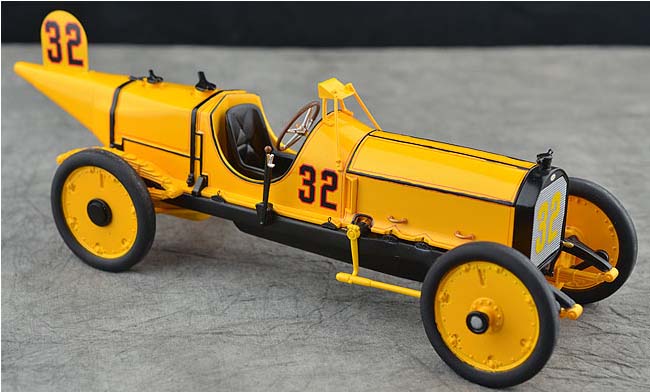 The 1911 International 500-Mile Sweepstakes Race was held at the Indianapolis Motor Speedway on Tuesday, May 30, 1911. It was the inaugural running of the Indianapolis 500, which is one of the most prestigious automobile races in the world. Ray Harroun, an engineer with the Marmon Motor Car Company, came out of retirement to drive, and won the inaugural event before re-retiring for good in the winner's circle.
Over the previous two seasons (1909 and 1910), the Speedway had scheduled numerous smaller races during a series of meets over the two years. In a departure from that policy, for 1911 the management decided to instead schedule a single, large-scale event attracting widespread attention from both American and European racing teams and manufacturers.
It proved to be a successful event, immediately establishing itself both as the premier motorsports competition in the nation, and one of the most prestigious in the world.The 1910 racing season at Indianapolis Motor Speedway began well, with an estimated 60,000 spectators for the 200 mi (320 km) Wheeler-Schebler Trophy on Memorial Day, won by Ray Harroun.
Throughout the remainder of the season, however, the crowds grew progressively smaller, and after seeing a second decline in attendance in as many days for Labor Day, 5 September 1910, the final day of the concluding meet, Speedway co-founders Carl Fisher, James Allison, Arthur Newby and Frank Wheeler conferred to decide on a new course for the following year. While the appearance on Monday of some 18,000 was reasonable enough, given both the rain showers occurring early that morning and the large parade held downtown during the afternoon, neither the two days of the Labor Day meet nor the July 4 weekend races had come near to equaling the Memorial
Day turnout. While potential explanations for the decline included the high heat of summer and the women of the city making family holiday plans that did not include automobile racing, one of the most likely, they reasoned, was an overabundance of the very events they exhibited: too many races had diluted turnout to including only those most interested in the sport.